Reverse Mortgage Counseling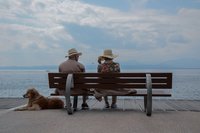 Reverse Mortgage Counseling
If you are at least 62 years old and have equity in your home, you may be considering a reverse mortgage. If you have already applied for one, contact Center for Financial Health to learn the pros and cons and get all of your questions answered. Reverse mortgage counseling is required before closing on the loan. Center for Financial Health is home to one of just a few *certified reverse mortgage counselors in the state of Michigan. The nonrefundable fee for reverse mortgage counseling is $150 per session.
If you already have a reverse mortgage and are having trouble paying your taxes or insurance, we may also be able to assist you with our Foreclosure Prevention Counseling service. 
Schedule a confidential appointment today.
All fees are nonrefundable.