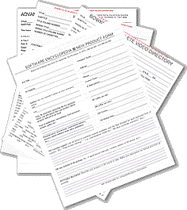 Helpful Forms
Use this form to create a monthly, zero-based budget to gain control of your money.

A completed Budget form is required for all modification request packages and will sometimes need to be updated throughout the modification request period.

The Budget form is a useful tool for pre-purchase clients as well - or anyone looking to modifiy their spending habits!

Use this helpful form to keep track of your follow-up calls to your lender while you are waiting for an answer on your modification request. It is important to call your lender every few weeks to check the status of your modificaiton request. Firstly, be sure to ask for the Loss Mitigation Department and let the person answering the call know that you have submitted a request for modifciation to the Lender. If you don't find the right department with the first call, hang up and call again - someone different will likely answer and will hopefully be more helpful. Don't get discouraged. Keep up with your weekly or biweekly calls to your lender to be sure your application is processed in a timely manner.

List of Lansing-area Community Resources including: Transportation, Domestic Violence Shelters, Youth Shelter and Services, Day Shelters, Meals, Legal Assistance, Picture Identification, Department of Human Services, Physical Health, Mental Health, Substance Abuse, Employment Services, Housing Assistance/Case Management.

This form is required by lenders for ALL self-employed, non-wage earning borrowers. This form is similiar to the Schedule C of the Federal Tax Return - Profit and Loss from Business.

Typically, this form will be required every quarter from your lender throughout the Modification request period. Be sure to provide your lender with a type-written statement; handwritten statements are often times not accpetable to the lender.

List of community resources for renters, home buyers, and homeowners.

This form helps define the roles of your counselors and you, the client.

This is an IRS form required by most lenders. It allows the lender to request a copy of the borrower's tax transcipt for the years indicated on the form.